| | | |
| --- | --- | --- |
| | 4 października - Dzień Św. Franciszka - Patrona Ekologów | |
29 listopada 1979 r. Papież Jan Paweł II wydał dokument (Breve apostolskie) zaczynający się od słów: "Inter Santos", w którym ogłosił św. Franciszka patronem ekologów (ludzi zajmujących się ochroną środowiska naturalnego) "ponieważ pośród świętych i pośród wielkich ludzi, którzy z szacunkiem traktowali przyrodę, jako cudowny dar Boga ofiarowany rodzajowi ludzkiemu, bardzo słusznie wymienia się św. Franciszka z Asyżu".

W r. 1980 Ojciec Święty Jan Paweł II ogłosił św. Franciszka patronem ekologii (ochrony przyrody) ze względu na to, że Święty bardzo kochał przyrodę.

Ekologiczny dekalog Św. Franciszka:

1. Bądź człowiekiem wśród stworzeń, bratem między braćmi.
2. Traktuj wszystkie rzeczy stworzone z miłością i czcią.
3. Tobie została powierzona Ziemia jak ogród; rządź nią z mądrością.
4. Troszcz się o człowieka, o zwierzę, o zioło, o wodę i powietrze, aby Ziemia nie została ich zupełnie pozbawiona.
5. Używaj rzeczy z umiarem, gdyż rozrzutność nie ma przyszłości.
6. Tobie jest zadana misja odkrycia misterium posiłku: aby życie napełniało się życiem.
7. Przerwij węzeł przemocy, aby zrozumieć jakie są prawa istnienia.
8. Pamiętaj, że świat nie jest jedynie odbiciem twego obrazu, lecz nosi w sobie wyobrażenie Boga Najwyższego.
9. Kiedy ścinasz drzewo zostaw choć jeden pęd, aby jego życie nie zostało przerwane.
10. Stąpaj z szacunkiem po kamieniach, gdyż każda rzecz posiada swoją wartość.

| | | |
| --- | --- | --- |
| | 2 października Europejski Dzień Ptaków, Europejskie Dni Ptaków | |
Europejskie Dni Ptaków - największa doroczna impreza przygotowywana przez sympatyków ptaków w całej Europie. Jej organizatorami od ponad 11 lat są europejscy partnerzy BirdLife International, a w Polsce Ogólnopolskie Towarzystwo Ochrony Ptaków.
Więcej w "Czytaj więcej"

| | | |
| --- | --- | --- |
| | Zapraszamy do udziału w IV edycji Projektu ACT ECO | |
Zapraszamy uczniów Gimnazjum nr 2 w Zakopanem na zajęcia, w trakcie których wspólnie zastanawiamy się jakie podejmować działania aby jak najmniej szkodzić środowisku naturalnemu. W trakcie zajęć w tym roku przewidujemy także: fotografię, próby filmowe, edycję własnej strony internetowej oraz możliwość pogłębienia znajomości języka angielskiego. Przewidywane wycieczki.


| | | |
| --- | --- | --- |
| | Obchody Światowego Dnia Środowiska z ACT ECO Team | |
Zapraszamy do przeczytania relacji i obejrzenia zdjęć pani Anny Karpiel-Sembereckiej z Podhalańskiego Serwisu Informacyjnego Watra:
watra.pl
W dniu dzisiejszym - 1 czerwca 2010, w sali obrad Urzędu Miasta nastąpiło wręczenie nagród zwycięzcom Międzyszkolnego Konkursu Ekologiczno – Medialnego zorganizowanego przez Projekt ACT ECO w ramach III Szkolnych Obchodów Światowego Dnia Środowiska (wpisanych w VIII Dni Zakopanego), pod patronatem Burmistrza Miasta Zakopanego, SEWIKu, patronat medialny Podhalański Serwis Informacyjny WATRA.
Uczniów i opiekunów powitał pan Burmistrz Jan Walczak. Następnie nagrody wręczali Sekretarz Miasta pani Renata Szych i Prezes SEWIKu pan Jakub Dzioboń, który przekazał także nagrody laureatom II Szkolnego Konkursu Ekologiczno – Chemicznego zorganizowanego przez ACT ECO w Gimnazjum nr 2, pod patronatem SEWIKu.
Po wręczeniu nagród wszyscy obecni zostali zaproszeni na słodki poczęstunek.
Więcej w "Czytaj więcej"

Wszyscy jesteśmy teraz głęboko przejęci ogromem powodzi, który ogarnął nasz kraj.
Warto przypomnieć, że drzewo/drzewa/las pełnią bardzo ważną rolę magazynując wodę z opadów i tym samym opóźniając jej spływ do rzek a więc przeciwdziałając powodziom.
Nasz nowa wystawa "Drzewo, drzewa, las" poświęcona jest roli drzew w życiu człowieka.
Więcej o znaczenie lasów w zapobieganiu powodziom w "Czytaj więcej"

ACT ECO
Gimnazjum nr 2
im. ks. prof. J. Tischnera
w Zakopanem ul. Sienkiewicza 27
serdecznie zaprasza 1 i 2 czerwca na III Szkolne Obchody
Światowego Dnia Środowiska "World Environment Day"
wpisane w VIII Dni Zakopanego
Program obchodów w "Czytaj więcej"
| | | |
| --- | --- | --- |
| | 5 czerwca Światowy Dzień Środowiska | |
Światowy Dzień Środowiska - World Environment Day - WED - został ustanowiony przez Zgromadzenie Ogólne ONZ na Konferencji Sztokholmskiej w 1972 r. i obchodzony jest corocznie 5 czerwca dla przypomnienia głównych haseł konferencji dotyczących zgodności rozwoju cywilizacji z rozwojem ekologicznym otaczającego świata.

| | | |
| --- | --- | --- |
| | 31 maja - Światowy Dzień Bez Papierosa | |
Światowy Dzień Bez Papierosa (ang. World No Tobacco Day) – święto ustanowione przez WHO - Światową Organizację Zdrowia w 1988 roku, które ma zwrócić uwagę na szkodliwość palenia tytoniu.
Tegorocznemu świętu towarzyszy ogłoszone przez WHO hasło "Płeć a tytoń. Ze szczególnym uwzględnieniem działań marketingowych skierowanych do kobiet" będące elementem Ogólnopolskiej Kampanii Społecznej.
Cele kampanii to:
• Dostarczenie wiedzy o wpływie dymu tytoniowego na zdrowie kobiet i ich potomstwa
• Motywowanie społeczeństwa do zaprzestania palenia
• Promowanie mody na niepalenie
Czas trwania kampanii: 31.V-31.VIII 2010 r.
Więcej w "Czytaj więcej"
| | | |
| --- | --- | --- |
| | 24 maja - Europejski Dzień Parków Narodowych | |
W rocznicę utworzenia pierwszego parku narodowego w Europie, obchodzony jest Europejski Dzień Parków Narodowych. Tym najstarszym europejskim parkiem narodowym jest szwedzki park narodowy Sarek utworzony 24 maja 1909 r.
Pierwszych 9 parków narodowych w Europie powołał parlament Szwecji w maju 1909 roku. Obecnie na naszym kontynencie jest ich ponad 250. W Polsce są 23 parki narodowe i około 120 parków krajobrazowych.
źródło: www.bionotatki.com

| | | |
| --- | --- | --- |
| | 22 maja Międzynarodowy Dzień Różnorodności Biologicznej | |
22 maja obchodzony jest na świecie "Międzynarodowy Dzień Różnorodności Biologicznej", proklamowany przez Organizację Narodów Zjednoczonych, w celu podnoszenia świadomości ekologicznej społeczeństw, ze zwróceniem uwagi na ochronę i zrównoważone użytkowanie zróżnicowanych zasobów biologicznych naszej planety.
Różnorodność biologiczna to bogactwo form życia na Ziemi, wynikające z mnogości roślin, zwierząt, mikroorganizmów oraz różnic między nimi.

Welcome to OUR
PROJECT ACT ECO
We are a group of
| | | |
| --- | --- | --- |
| Active | | Effective |
| Conscious | | Concerned |
| Thoughtful | | Organized |
Students who want to do things for others
To take care for the planet
To think responsibly about the fate of next generations.

Get involved
Make a difference
Take action
Join us!
Ciekawostka
1 litr zużytego oleju silnikowego wylany do rzeki lub kanalizacji jest w stanie zanieczyścić 1 milion litrów wody.
Linki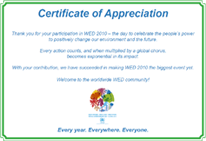 Certyfikat uczestnictwa w WED2010


Kampania o zmianach klimatu Komisja Europejska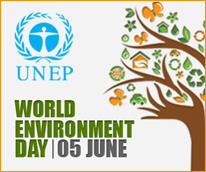 WED 2011

WED 2012